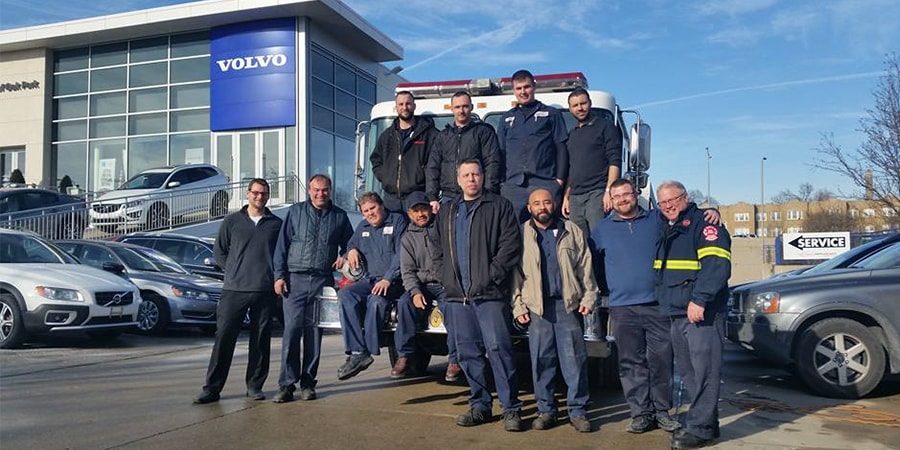 *Helping the Oak Park Fire Department
VOLVO CARS OF OAK PARK GETS INVOLVED!
The staff members at our Volvo dealership in Oak Park, IL, always jump at the chance to get involved with our local community and help out those in need. Check out some of the things our incredible staff has made possible!
HELPING THE OAK PARK FIRE DEPARTMENT
Firefighters work tirelessly around the clock, responding to medical emergencies and fire alarms alike. When it came time to honor a fallen hero, the service department at The Autobarn Volvo Cars Oak Park stepped up to fully clean and detail one of their fire engines for the funeral. The men and women in uniform help us stay safe around the clock and are willing to show up in our most desperate moments; we're happy to pay that back any way we can.
USO BBQ AND FUNDRAISERS TO SUPPORT THE TROOPS
The United Service Organizations Inc. is a nonprofit organization that provides programs, services and live entertainment to the women and men of the U.S. military and their families. In the past, we've hosted a barbeque that's open to the public to honor these brave service members. We've also collected loose change through a service drive that allowed us to raffle off a chance to win a free custom detail. We look forward to continuing doing events like these and more for the USO in the future!
THE OAK PARK FARMERS MARKET
Every spring and summer, lots of people flock to the Oak Park Farmers Market to enjoy fresh produce and meet new people. Look out for us there on select days during the warmer months -- come talk to us if you're interested in buying or leasing a new or pre-owned Volvo, want to hear about the services we offer or if you'd just like to get to know us better. We're looking forward to meeting you!
FIELD TRIPS
There's something about the allure of a luxury car that kids and adults alike love. We've had the pleasure of hosting the ABC Toon Town II Pre-School of Oak Park as part of their learning about cars. They got to see our different Volvo models up close, ask questions to our expert staff and overall have a truly incredible time learning about everything that The Autobarn Volvo Cars Oak Park does. If you'd like to take your class on a field trip to our Illinois Volvo dealership, we'd be happy to have you!